Today, I clicked my way across a GREAT blog with some links to
wonderful ideas for garden labels
.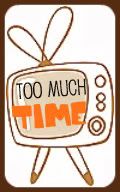 Kim at Too Much Time On My Hands
posts many different projects for labeling the little bitty plants ( I have no clue what you are little plant) in your garden.
My personal faves are:

I wonder if I can make it weather-able with plaster of Paris? (I will have to look that up)
Now how to add these great ideas to the markers I already have.....